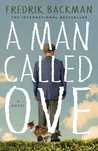 A Man Called Ove by Fredrik Backman
Meet Ove. He's a curmudgeon… People call him the bitter neighbor from hell, but must Ove be bitter just because he doesn't walk around with a smile plastered to his face all the time?
Behind the cranky exterior there is a story and a sadness. So when one November morning a chatty young couple with two chatty young daughters move in next door and accidentally flatten Ove's mailbox, it is the lead-in to a comical and heartwarming tale of unkempt cats, unexpected friendship, and the ancient art of backing up a U-Haul.(Goodreads)
---
My rating: 4 of 5 stars
I thought I knew how this book would turn out as soon as I read its blurb. It was obviously going to be just a retelling of the Christmas Carol except instead of ghosts there would be a nosy family. But a quarter through I already knew I was wrong and that I was going to like it.

I mean, Ove was frugal with his money and lavish with his criticisms (like Scrooge), but he also had depth. At the beginning he was like a stereotypical grumpy old man, but as I learned more about his car, his wife, and his childhood I was reminded now and then of a parent, a grandparent, myself, a friend, a stranger. That's how strong his voice was.
"A time like that comes for every man, when he chooses what sort of man he wants to be. And if you don't know the story, you don't know the man."
There were other things to like: the diverse secondary characters who drove Ove's story (and life) forward with their quirks, charity, and mishaps; the occasional touch of humor and romance; and the beautiful words.
"To love someone is like moving into a house. At first you fall in love in everything new, you wonder every morning that this is one's own, as if they are afraid that someone will suddenly come tumbling through the door and say that there has been a serious mistake and that it simply was not meant to would live so fine. But as the years go by, the facade worn, the wood cracks here and there, and you start to love this house not so much for all the ways it is perfect in that for all the ways it is not."
I would have liked it more if wasn't as slow. But even as I was writing that I thought it would be a different story if it wasn't the way it is. It's slow and it seems simple, but it has a lot of insights about life, loneliness, and death. If that sounds like something you'd appreciate, then this book is highly recommended.